Miracle on the 17th Green
by James Patterson, Peter de Jonge
Overview
Travis McKinley's life has drifted sideways. His job, his marriage, even his children all feel disconnected and distant. Has he really accomplished nothing of consequence in his life? One Christmas Day, Travis plays a round of golf and finds himself for the first time in the zone–playing like a pro. In astonishingly short order, Travis is catapulted into the PGA Senior Open at Pebble Beach, where he advances to the final round. And while his wife, his children, and a live television audience watch, a miracle takes place that changes Travis, and his family, forever.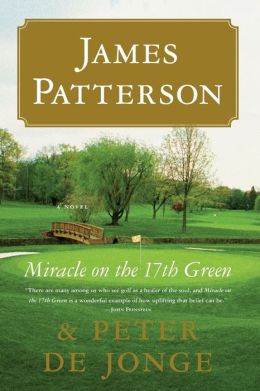 Editorial Reviews
John Feinstein
"There are many among us who see golf as a healer of the soul and Miracle on the 17th Green, is a wonderful example of how uplifting that belief can be."
Publishers Weekly –
While it isn't quite the literary equivalent of a hole-in-one, this fast-moving golf fantasy about an amateur golfer who decides to try out for the PGA Senior Tour has enough sweetness and humor to overcome its obvious plot clichs. Middle-aged and happily married, Travis McKinley does the unthinkable: he misses Christmas dinner after getting caught up in a divinely inspired streak of great putting during an outing on the country club course in Winnetka, Ill. As Travis's obsession with his newfound talent takes over his life, his obstetrician wife, Sarah, expresses increasing dismay over his inability to grow up, a domestic crisis that reaches a boiling point when Travis loses his job and journeys to Tallahassee, Fla., to try to qualify for the Senior Tour. Competing against overwhelming odds, Travis earns a place on the tour, only to have his dream spoiled when he learns that Sarah intends to file for divorce. As he continues to compete against the likes of Jack Nicklaus and Lee Trevino, the victory that will fulfill Travis's dream and reunite him with his family is as improbable as it is inevitable. Plot issues aside, Patterson (whose newest thriller is Jack and Jill) and de Jonge succeed admirably in creating a winning character who is enough of a child to believe his dreams and is also mature enough to offer some gently humorous reflections on our national obsession with an engaging sport. Christmas shoppers take note: vigorous, straightforward prose and solid characterization put this second golf fable of the season in a far different league from the mystical, romantic The Legend of Tommy Morris.
Library Journal
Think of this short novel by best-selling thriller writer Patterson (Hide & Seek LJ 12/95) and journalist de Jonge as a cross between It's a Wonderful Life and a masculine version of Sleeping Beauty. On Christmas Day, Travis McKinley is playing golf when suddenly he acquires perfect vision for the putt. In a zone, he plays brilliant golf and misses Christmas dinner with his family, where things are already rocky. The wife he adores wants to leave him, and he doesn't know why, although it may be because working 30 years in an advertising job he hates has strangled his growth and enthusiasm. When he's fired, he is liberated to see whether he really can play professional golf. Travis qualifies for the Professional Golfers Association Senior Tour, and it changes him and his family forever. Buy this for all the middle-aged male golfers who still have the spark of a dream left in them, as well as for those who've given up.Marylaine Block, St. Ambrose Univ. Lib., Davenport, Iowa
Bill Ott
Patterson and coauthor de Jonge add a new twist by melding a golf story onto a sentimental Christmas fable. The resulting plot is sort of Rocky Does the Senior Tour with just a hint of It's a Wonderful Life.
— BookList
BookReporter.com
"This is a hopeful little gem, and you don't even have to like golf to enjoy it."
Chris Nelson
Miracle on the 17th Green is…where miracles can happen to those who learn to dream again.
— Calgary Sun
Nichol Ruth
Even if you don't know a birdie from a putter you can still enjoy this sweet tale of a middle-aged golfer's extraordinary blossoming.
— The Evening Post (Wellington)
Chris Nelson –
"Miracle on the 17th Green is…where miracles can happen to those who learn to dream again."
Nichol Ruth –
"Even if you don't know a birdie from a putter you can still enjoy this sweet tale of a middle-aged golfer's extraordinary blossoming."
Bill Ott –
"Patterson and coauthor de Jonge add a new twist by melding a golf story onto a sentimental Christmas fable. The resulting plot is sort of Rocky Does the Senior Tour with just a hint of It's a Wonderful Life."
From the Publisher
"A fast-moving golf fantasy."—Publishers Weekly
"Miracle on the 17th Green is…where miracles can happen to those who learn to dream again."—Chris Nelson,Calgary Sun
"Even if you don't know a birdie from a putter you can still enjoy this sweet tale of a middle-aged golfer's extraordinary blossoming."—Nichol Ruth, The Evening Post (Wellington)
"This is a hopeful little gem, and you don't even have to like golf to enjoy it."—BookReporter.com
"Entertaining."—Kirkus Reviews
"A cross between It's a Wonderful Life and a masculine version of Sleeping Beauty."—Library Journal
"Patterson and coauthor de Jonge add a new twist by melding a golf story onto a sentimental Christmas fable. The resulting plot is sort of Rocky Does the Senior Tour with just a hint of It's a Wonderful Life."—Bill Ott, BookList